Meet Dr. Chris Cummings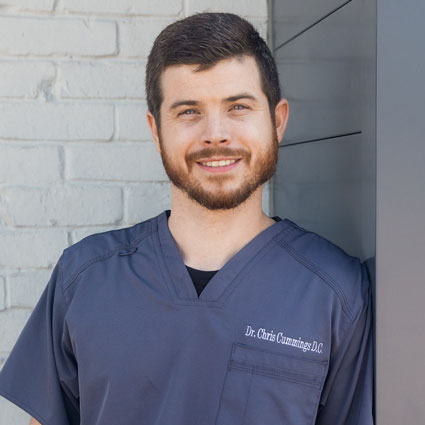 Dr. Cummings was introduced to chiropractic at an early age after his father was injured in an automobile accident. Since that time, it has been an essential part of keeping him and his family feeling great during years of hard work in the construction industry in Arizona. Seeing the benefits of chiropractic first hand and his passion to help others, he moved to Texas to begin his journey and is now serving Rockwall alongside Dr. Payne.
Education and experience
Dr. Cummings' education began with a bachelor's of biomedical sciences from Northern Arizona University in 2012 and then received his Doctorate of Chiropractic, with honors, from Parker University in 2017.
Dr. Cummings aspires to help all people with his detail oriented and down to earth approach. He possesses a keen interest in active rehab and a passion for educating patients on how to get and stay out of pain.
Outside of the Office
Dr. Cummings' love of working with his hands continues outside the office where he enjoys projects around the house, outdoor activities, BBQing, and spending time with his girlfriend Katie and their two dogs.
Contact Us for a complimentary consultation with Dr. Cummings. We're an in-network provider with most insurance companies and accepts Medicare.

Chiropractor Rockwall TX | (972) 771-9844